Offshore Windfarm Assets / Academic Industry Cooporation
File
ChangFang, Xidao Windfarm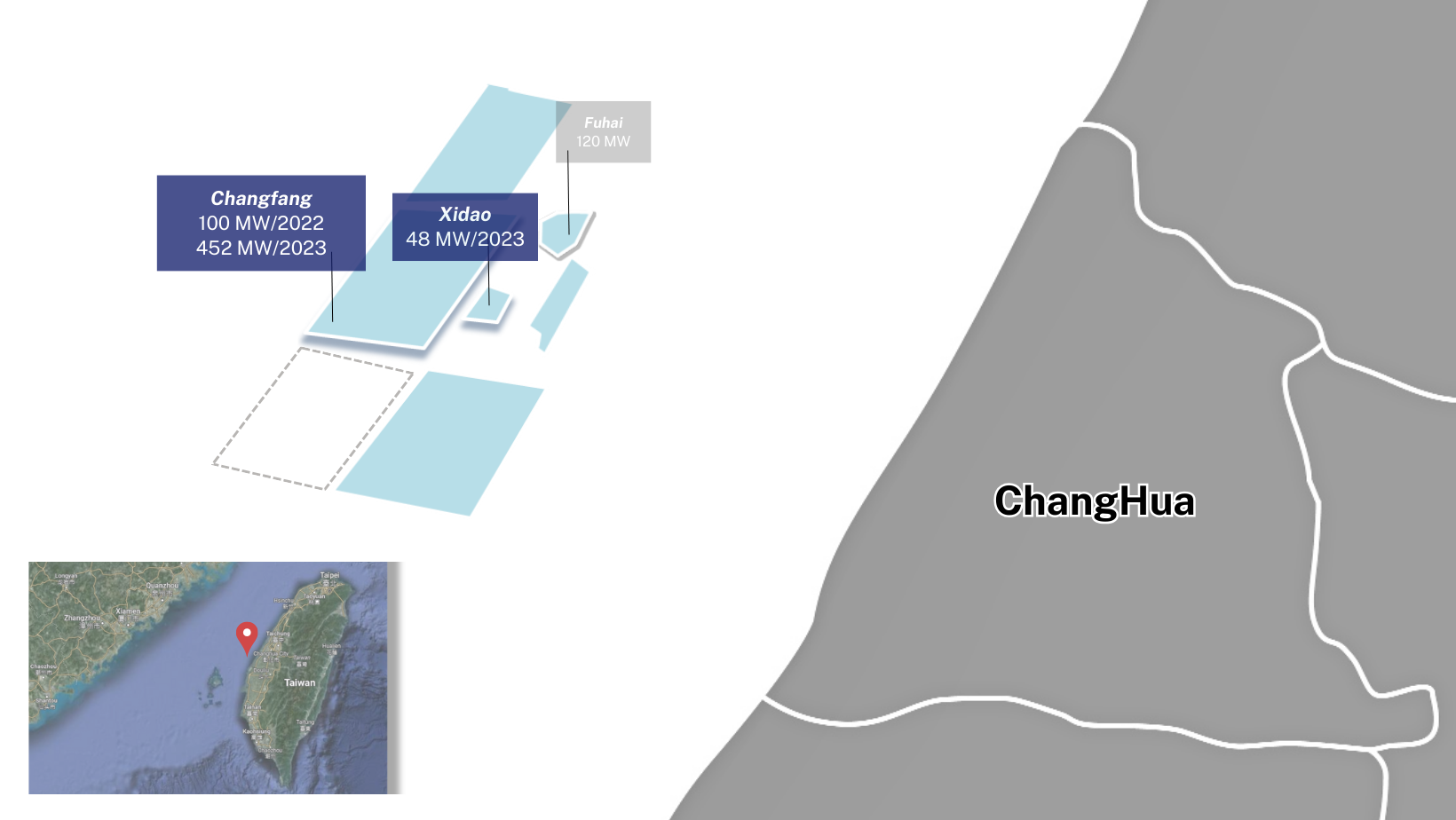 Project Background
TGC has accumulated rich experiences in feasibility studies, proposal preparation, environmental impact assessment, project management/consultancy services, and preparation for establishment permit applications. For years, TGC has been committed to promoting international cooperation and cultivating local talent for Taiwanese offshore wind industry. Building on the experience of developing Fuhai wind farm, we further developed offshore wind farms in 2015 under the potential sites scheme, including Changfang, Xidao and Fufang projects with a total capacity of approximately 1.5GW. As the founding developer of the aforementioned wind farms, TGC signed with the Copenhagen Infrastructure Partners (CIP) in 2017 the Joint Development Agreement, Service Agreement, and Memorandum of Understanding(MoU) for Operation & Maintenance Services with a Right to Match. TGC and CIP worked together to jointly develop the potential sites projects with TGC taking on the role of early-stage project consultant. According to the Joint Development Agreement, TGC is entitled to hold equity shares in Changfang Xidao Projects and nominate one director.
Development Stage
Changfang Xidao Projects was allocated 600 MW grid capacity by Energy Administration, Ministry of Economic Affairs in 2018. It reached financial close in February 2020 and officially entered the construction stage. Changfang Xidao was connected to the grid at the end of 2022 and achieved the milestone of generating the first power. It is expected to complete the installation of wind turbines by the end of 2023. After the construction, Changfang Xidao Wind Farm will provide cleanenergy to meet electricity needs of more than 600,000 households in Taiwan.
Shareholder Equity
In 2020, TGC and CIP had a dispute over the milestone payments in the service agreements signed between the parties. To protect TGC's rights and interests, TGC filed a request for international arbitration to Singapore International Chamber of Commerce (SICC). TGC won the arbitration and the case has been recognized by the Taipei District Court.