Taiwan Offshore Wind Farm Services Corp. (TOWSC) becomes ISO 45001 and ISO 14001 certified
TOWSC's ISO 45001:2018 and ISO 14001:2015 became effective on March 24, 2020, and were issued by DNV GL, an industry recognised registrar and classification society providing certification services for Health, Safety, and Environmental Management Systems.
TOWSC, with the support of offshore wind expert SeaRoc's consultancy service, has earned the ISO 45001:2018 and ISO 14001:2015 certification for offshore wind farm O&M services in addition to the Company's existing ISO 9001:2015 and ISO 27001:2013 certifications. The adoption of ISO 45001 and 14001 standards will help TOWSC to systematically reduce the risks and to devise control measures in order to improve general safety and quality for offshore services.
Neil Pittam, SeaRoc's Head of Counsultancy, said:
SeaRoc Group Ltd , would like to take this opportunity to congratulate TOWSC on achieving their ISO 45001 and ISO 14001 certifications. SeaRoc take pride in enabling companies within the growing offshore market set their standards. This has been a great opportunity for our QHS&E Consultancy Team to support a Taiwanese Offshore Renewables O&M Principal Contractor, to design and implement an effective Health, Safety and Environmental Management System.
SeaRoc has been working on offshore renewable projects since 2002 and we look forward to supporting Taiwanese projects in the future."
The development of Health, Safety and Environment (HSE) management system has helped TOWSC team to identify areas associated with high risks and to set up respective safe work procedures. The service scope of TOWSC includes offshore logistics and maintenances involving vessel transit and transfer, working at heights, underwater inspection, etc.
The validation from DNV GL not only demonstrates the Company's commitment to the health and safety at workplace but also shows that TOWSC is ready to work in offshore environment following local regulations and international standards. Adopting higher HSE standard means that TOWSC will continue to maintain the HSE management system and implement the safety procedure and process, and the system will thereby continue to improve to support the health and safety of our staff and subcontractors and the sustainability of the environment.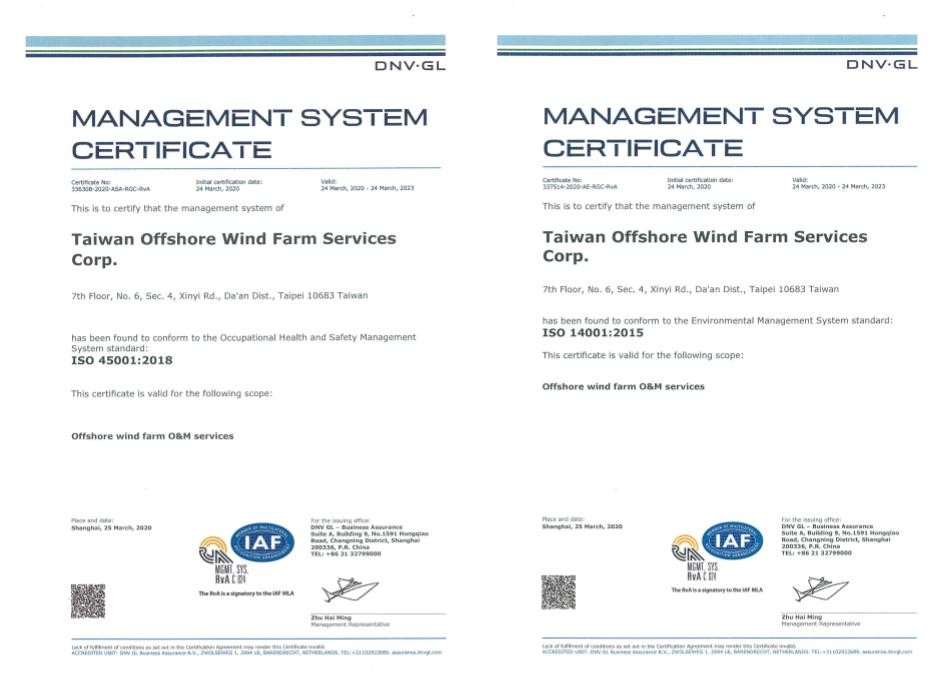 相關新聞
2019.08.30
TOWSC, an offshore wind farm O&M service provider, signed a MoU with Dutch Crew Transfer Vessel...
2023.03.29
TOWSC's commitment to the health and safety in the workplace demonstrates that TOWSC is commit...