Offshore Wind as Our Core Business
Dedicating to combining our expertise and experiences in the offshore wind
industry with our mission to provide renewable energy for Taiwan.
READ MORE
Fuhai Met Mast
Professional Services
We strive to live out the value of practicality, diligence, compassion, integrity and professionalism. With these core values we aim to develop and supply renewable energy for Taiwan.

Through our experience from private enterprise in the past and the recent development of Fuhai Project, we establish the track record in the domestic electricity industry and assist in building relevant domestic regulations and government interfaces. We have also provided consultant services to energy companies in the UK, Japan and other countries for power plant projects in the past.

TGC stands as one of the few domestic developers specializing in offshore wind power. We respond to different aspects of problems on time and on budget, providing customers with the most pragmatic and professional services and suggestions.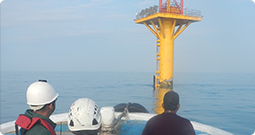 We have been focusing on offshore wind O&M business for a long time. In 2014, we established a subsidiary company "Taiwan Offshore Windfarm Services Corporation (TOWSC)" to fully dedicate on providing total solutions for offshore wind farm O&M services. TOWSC was the only private technology contractor in the industrial cooperation plan at the period. We are dedicated to assisting the government in implementing the policy goal of localizing the offshore wind power industry. At the same time, TOWSC has established cooperative relationships with domestic and foreign industries and academia. Our ultimate goal is to combine domestic and foreign technology & knowledge, providing customers with the best O&M solutions.



Services We Provide
運轉與維護計畫、執行與優化

技術人員提供(風機維護及風場監控)

後勤支援物流管理(船舶、港口及倉儲)

採購工程合約管理

海氣象觀測及發電量預測

數據分析與風場績效評估

環安衛及風險管理
Public relations operation and management

Coordination of the relationship between government and local

Interface integration management and coordination

International cooperation and technology transfer

Acedemia industrial cooperation and matchmaking with local enterprises
Join us, for greener energy and a more sustainable generation.
開放職缺